Junior Skill Hubs (Grades 9-12)
Junior Skill Hubs are designed to help junior players develop and improve their core skills, to enjoy the game and prepare for youth football. These sessions aim to support player development for all junior players, regardless of their current ability level.
Platform to develop all
ECB believes all junior players should have an equal opportunity to access the best coaching and development training; not just the 'top' teams. The more players we can influence and develop to their best potential in the junior space, the stronger our players, culture, and club will be.
Implement best practice
ECB is prioritising the Junior Skill Hubs to align with football governing bodies and has invested in the best resources with the aim to maximise professional coaches time with as many of our junior players as possible. Players will have access to our most qualified and experienced coaches, quality facilities and equipment (including one ball per child) and optimal coach to player ratios.
>>Check out some of the action below and in our Junior Skill Hubs Gallery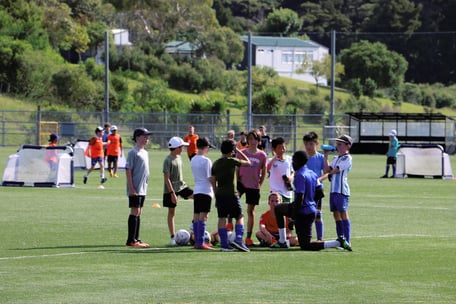 Access to quality training
Our Junior Skill Hubs provide players with a solid introduction to well-structured and quality training where they are placed in high-paced and challenging environments. Our Sessions are split into four key areas: Technical Development, Skill Games, Athlete Development and Game Play.
What will they learn?
Sharpen technical ability and build confidence on the ball. Develop skills to beat opponents. Learn to play under pressure. Improve decision-making skills. Gain Intelligent movement and awareness. Build a strong work ethic towards training.
Term 4 2023 Junior Skill Hubs
This 9-week programme starts on Monday 09 October 2023
Who: All junior boys and girls aged 9-12 of all abilities
When: Mondays and Tuesday Nights
9th-10th Grade - Monday Nights (5.30pm - 6.30pm)
11th-12th Grade - Tuesday Nights (5.30pm - 6.30pm)
Where: Bay City Park, Andersons Road, Oteha
Cost: $90 for Term 4.
Register here!