Youth Talent Development Programmes - TDPs (Grades 13-17)
East Coast Bays AFC is proud to be a part of a select group of clubs with an New Zealand Football Accredited Talent Development Programme.
Players within our Talent Development Programme (TDP) train three nights a week with our highly qualified OFC/NZF licenced coaching team who deliver our own player-centred curriculum.
The aims of our TDP are to develop the whole person:
Supportive, safe and enjoyable environment to learn and play football on two artificial turfs at Ashley Reserve (Long Bay)
Provide a holistic football education from 13 - 17 years of age with a focus on developing character, lifestyle, problem-solving and teamwork
Football philosophy that is adapted to develop appropriate skills in each age group, balancing skill development with enjoyment and challenge
Developing game-breaking players through an individual development focus, within a friendly and competitive team setting
Specialist focus on learning to outplay defenders and excel in 1v1 situations.
Regular individual goal setting and mentoring sessions
Educational workshops and educational material in injury prevention, nutrition and pathways
>> To get a taste of what it's like, check out some of the action in our TDP Video (click the image on the right) or visting our TDP photo gallery
We pride ourselves on having one of the best coaching teams in New Zealand with highly qualified OFC/NZF licensed coaches who are well connected with players of all ages at the club. More information on our coaching team and additional coaching options can be found here.
Selection process
Selection for our TDP teams takes place in Term 4, with players assessed and given time to settle into the programme over 9 weeks.
Our NZF accreditation allows us to compete at the highest level
Our TDP teams compete in the NRFL Youth and NRF Championship Leagues which are the highest level of competition provided by NRF. The NRFL Youth League is the league created for TDP accredited clubs to enter. Any TDP accredited club gains automatic entry to the NRFL Youth League for grades U13 to U17 and the league is regionally based (Northland/Auckland/Waikato/Bay of Plenty). The NRF Championship League sits underneath the NRFL Youth League and the league is locally based (Northland/Auckland).
Our programmes cater for the following age grades:
13th Grade NRFL Youth League Mixed & NRF Championship League Mixed
14th Grade NRFL Youth League Mixed & NRF Championship League Mixed
15th Grade NRFL Youth League Boys
17th Grade NRFL Youth League Boys
2023 TDP Training + Schedule
The ECB Training Week
Each training week is designed to deliver a full range of exercises for the aspirational footballer that covers injury prevention, decision-making, 'outplay' exercises, and team concepts in small, medium, and large groups – all working within a week-long learning theme. All exercises include opposed finishing on goal. Specialist goalkeeper coaching is available each week within the regular training schedule.
Term 1 2023 Schedule
Wednesday Feb 8th - Talent Development Program begins for all players born between 2006-2010 (inclusive)
NRFL Youth 13/14s (born years 2009-2010)

Start the Engine: Monday 4.30pm-6pm Ashley Reserve
Win it Wednesday: Wednesday 4.15pm-5.30pm Ashley Reserve
Game Ready: Friday 4.15pm-5.30pm Ashley Reserve
NRFL Youth 15s/17s (born years 2008-2006):
Start the Engine: Monday 6.15pm-7.45pm Ashley Reserve
Win it Wednesday: Wednesday 5.15pm-6.30pm Ashley Reserve
Game Ready: Friday 5.45pm-7pm Ashley Reserve
Future bays (17s eligible players train w/ first team and u23 players - by invite only, based on ability)
Tuesday 6.30pm Ashley Reserve
Wednesday 6.30pm Ashley Reserve (invited players do not need to attend the NRFL Youth 17s session on the same evening)
NRFL Youth Goalkeepers
Monday and Wednesday: 5.30-6.30pm
Players are encouraged to arrive 15 minutes prior to the start of each session. We will provide individual training guidance and arrival activities for this time.
2023 TDP Launch night – all NRFL Youth Teams at Bay City Park Friday 3rd March 4.30-6.30pm
For NRFL YOUTH 13s, 15s, 15s, 17s
Game days vs other NRFL Youth clubs on the following weekends:
Sunday March 5th
Sunday March 12th
Sunday March 19th
NRFL Youth season begins Sunday March 26th.
NRFL Youth Championship (players born in 2009/2010)
Training begins Monday 20th February.
Win it Wednesday: Wednesday 4.15pm-5.30pm Ashley Reserve
Game Ready: Friday 4.15pm-5.30pm Ashley Reserve
NRFL Youth Championship is open to new players, express interest here: https://forms.office.com/r/dte6eFy799
Championship season begins Sunday 30th April
TDP Coaches
NRFL Youth 17s
Head Coach - Mingi-So
Assistant Coach - Faiz Syed
NRFL Youth 15s
Head Coach – Daewook Kim
Assistant Coaches – Callum Simmonds / Joe Hall
NRFL Youth 14s
Head Coach – Faiz Syed
Assistant Coach – Mingi-So
NRFL Youth 13s
Head Coach – Callum Simmonds
Assistant Coach – Thomson Nkoy
NRFL 13s/14s Championship
Head Coach – Thomson Nkoy
Support coaches
Goalkeeping coach: Adam Frisby
Strength and Conditioning: Dan Stutt / Mikael Staryzinski
Video Analysis: Jake Le Sueur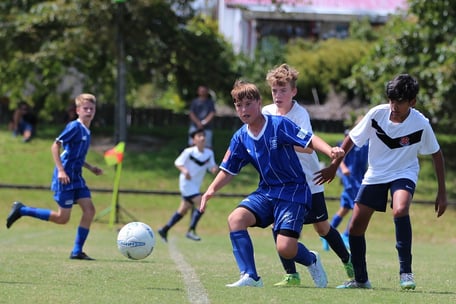 Fees
2023 Terms 1, 2 & 3 fees are $400 per term
We offer payment plans where required – email admin@ecbafc.co.nz

In comparison with other Talent Development Programme (TDP) and Skill Centre (SKC) accredited clubs in Auckland, our fees remain competitive.
Registration
Registrations for Term 1 are now open. If you're a member, please register through your Friendly Manager account.
If you're new to the club and you're interested in our TDP, please register your interest to play here: https://forms.office.com/r/dte6eFy799