Mini Girls (Grades 5 - 8)
Our Mini Girls programme is often the first experience with club football. Therefore, we strive to provide a safe, enjoyable football experience for our future stars, providing them with a technical base and inspiring a love for the beautiful game!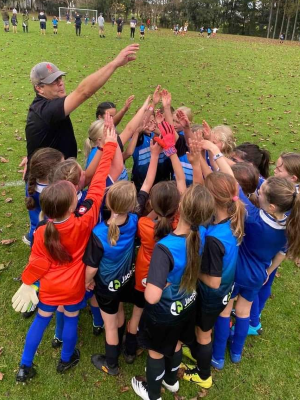 Friday night games make football more accesible
Our Mini Girls programme runs on Friday nights which is a unique feature to East Coast Bays. Based off past experience and feedback from parents, we successfully transitioned the Mini Girls programme to a Friday night to make football more accessible for girls at this age. This works well for parents and players, who can then make a choice of playing either mixed football or play other sports such as netball and hockey on Saturday mornings. We understand that girls of this age have other interestes so we have tailored our programmes to suit.
The games
We will be mixing the training and game aspect to fit in with the girl's stage of development. Sessions will incorporate a skill-building session and also gameplay within the group. We will also endeavour to have a couple of shared football experiences with other clubs during the season.
Alternative options
In additon to our Mini Girls Friday night sessions, all girls are welcome to also join a Mini Bays mixed team that play on Saturday mornings. This provides an additional opportunity for those that want it. More information about our Mini Bays programme can be found on our Mini Bays page
Key Information
The season aligns with school terms 2 & 3. The first Mini Girls games start Friday 6 May 2022
Game times and locations are still to be confirmed
What grade is my child?
Grade 5: born Jan 1, 2017 - Dec 31, 2017 inclusive
Grade 6: born Jan 1, 2016 - Dec 31, 2016 inclusive
Grade 7: born Jan 1, 2015 - Dec 31, 2015 inclusive
Grade 8: born Jan 1, 2014 - Dec 31, 2014 inclusive
What uniform is required?
Players will be provided with an ECB playing shirt that needs to be returned at the end of the season.
Purchase club shorts and socks here.
All players must wear shinpads.
Samples for sizing of junior playing gear (shorts & socks) are available at our clubrooms if you want to try before you buy. Contact Duane at admin@ecbafc.co.nz to organise a time to pop in.
Register
If you are keen to join one of our Mini Girls teams, you can register here.
Contact
If you have any questions, get in contact with our Mini Girls convenor Roger Bridge, roge.bridge@gmail.com